TAVAS News
New Triplane Flies
May 2019
The design and build of Renni Forbes' magnificent Sopwith Triplane replica was covered in Issue 20 of 'Contact' and the first flight reported in Issue 28.
Since then Renni has been busy honing his skills in a C-140 at Caboolture and on Tuesday 7th May, flew his creation for the first time. He managed another flight that same week.
This is an incredible achievement. He learnt aircraft design from books and videos, designed his own scaled aircraft to fit around the then new Rotec R3600 radial engine – then built that aircraft, and has now flown it. He needs to be congratulated for the extreme patience and perseverance shown over almost two full decades, to get to this point.
This is a delightful aircraft to fly, very well balanced with light controls & plenty of power. Renni certainly looks good flying it. His approaches are all consistent and steady, his aim point constant and he smoothly rounds out into a nice touch down every time I've seen him fly.
It has surprised Renni just how easy it is to fly – as he said, "It's even easier than the Cessna 140" Well Done Renni!
Mark Smith, editor of the RAAus Sport Pilot Magazine had been interested in Renni's story for quite some time and had been trying to do a feature on it for his magazine. Weather prevented him from coming up to Caboolture (from Ballarat) and getting the air to air pics he needed, a couple of times.
That all changed on Sunday 5th May. Renni and Mark were airborne in the C-140, with Andrew Carter flying Renni's Triplane and Paul Strike in the TAVAS Fokker Triplane. The pictures opposite are just some of many taken that day. Other photos featured on the front cover of the July 2019 issue of Sport Pilot, along with a multi-page spread on Renni and his aircraft inside.
Want more? There are countless articles like this on early aircraft, pilots and our museum in the TAVAS newsletter 'Contact'. Members enjoy full access to all back-issues. See below to Join.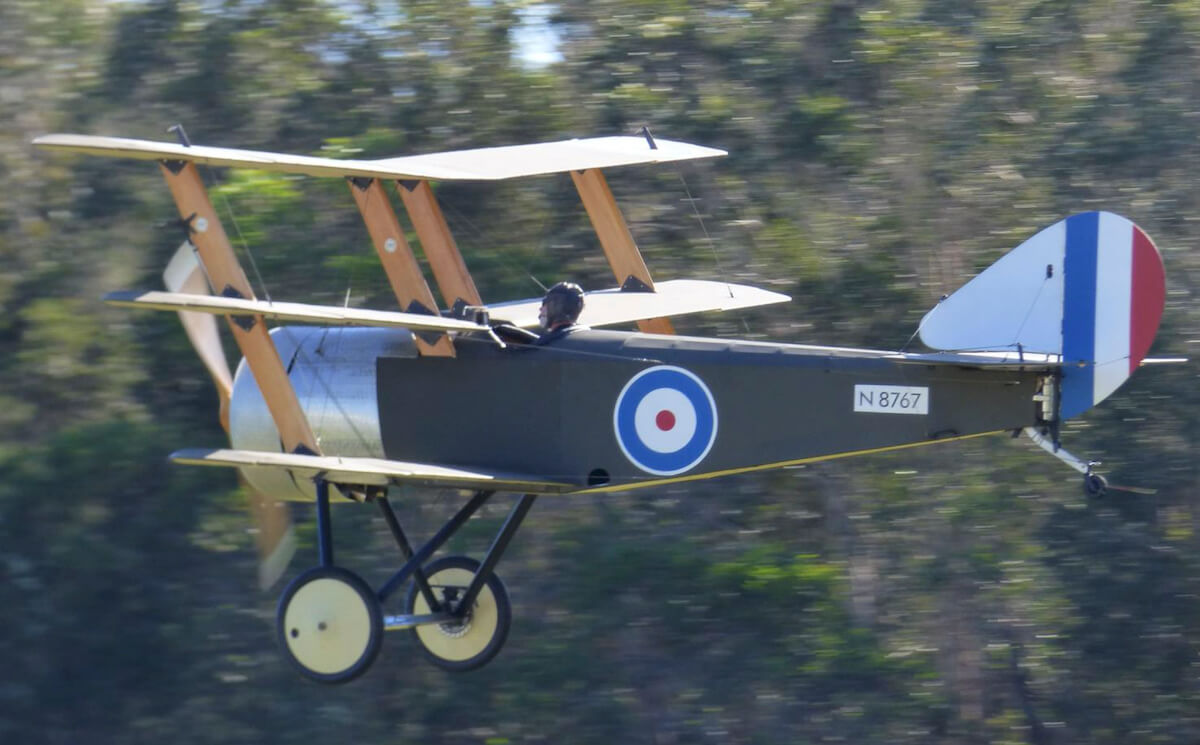 Renni on his second only flight in his magnificent creation, doing circuits at Caboolture.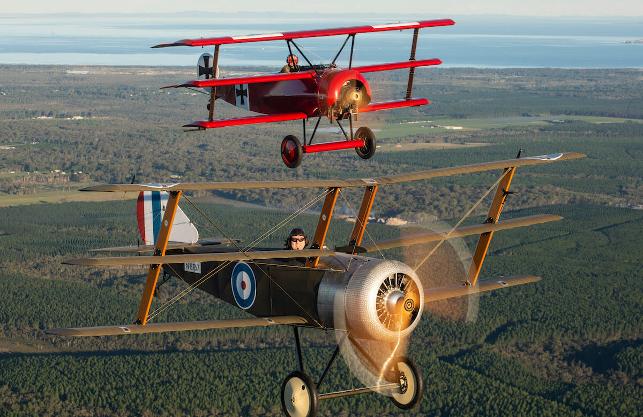 Paul Strike (Dr1) and Andrew Carter (Sopwith) join up for a photo op. (Mark Smith Photography / Sport Pilot magazine)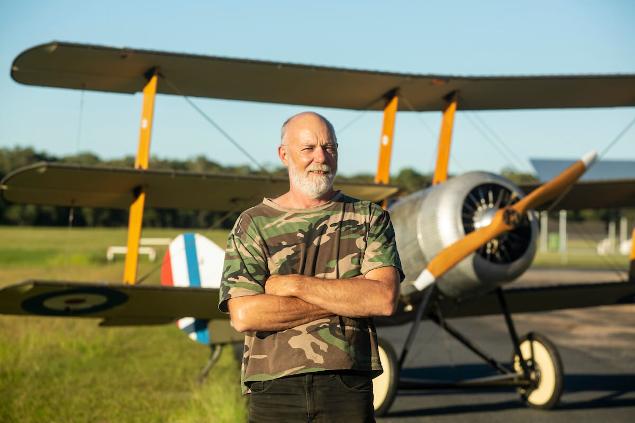 Renni Forbes stands with his beautiful machine. (Mark Smith Photography / Sport Pilot magazine)
© Copyright The Australian Vintage Aviation Society
Caboolture Warplanes Museum, Caboolture Aviation Museum, Caboolture Museum