TAVAS News
Museum Events
December 2019
A lot has been happening at the museum. Right from the start, we designed it to be suitable for large group tours, pre / post wedding and other types of photo shoots and of course as a large function venue.
Group tours and events
The planning put in has been paying off, with the number of tour groups growing in frequency and number, our first pre-wedding photo shoot having taken place and a large function having been very successfully hosted by Nathalie at the end of November.
The pre-wedding photo shoot was taken by the official photographer for that couples wedding and was very well received by all involved. Despite having paid up front, the couple were so impressed by the attention to detail Nathalie took to make their shoot a truly memorable occasion, they paid even more again on the day – confirmation, that we're doing things right.
The group visits have included ladies from a retirement home to school children, and everyone in between. We have already had return visits from some of these groups and at least one member of each group belongs to another group and he or she ends up bringing the other group through at a later stage.
In late November the Australian Warbirds Association Limited (AWAL) held their AGM at Caboolture and the official dinner that night was held in TAVAS museum. This is not the first event we have held here, but it was the largest official event and once again Nathalie truly outdid herself.
This was a fully catered function where guests were surrounded by vintage aircraft beside and above. It was greatly appreciated by all who attended. The comments we received on the night and for many days after, show that it is an ideal venue, expertly executed by Nathalie with her events management background. I expect to see more of this activity in the future, especially as there simply is no other venue like it anywhere else in the area.
Fokker D.VIII (un)covering
The Belgian linen that was used to cover the Fokker E.III and D.VIII has a limited life. Exposed to UV, it becomes quite brittle and cracks. The time it takes for this to happen, depends on how long it is exposed to UV light, but can be as little as a few years.
This of course wasn't really a problem during the war. Very few aircraft would have survived that long. For an actual flying museum piece however, it is a rather different story.
Our D.VIII first showed signs of fatigue last year, just prior to the airshow, with the fabric covering on one wheel, tearing. This was simple enough to repair with plain linen strips, but would only just get us through the show. Not long after, the first tear appeared in the fuselage, effectively grounding the aircraft. It has taken considerable time to obtain new fabric (at over $90 per metre) to completely recover the aircraft.
Whilst waiting for that fabric to arrive from overseas, I cut away the most damaged parts of the fabric on the aircraft, which created a great static exhibit which gave visitors a much better view of the construction of the D.VIII and of the cockpit.
The process of recovering starts with removing all the damaged fabric, as much as possible in one piece, to be able to use as a pattern for the new material.
You'll find more on how we sew the fabric and apply it to the aircraft in the next issue of 'Contact', free to all TAVAS members.
Want more? There are countless articles like this on early aircraft, pilots and our museum in the TAVAS newsletter 'Contact'. Members enjoy full access to all back-issues. See below to Join.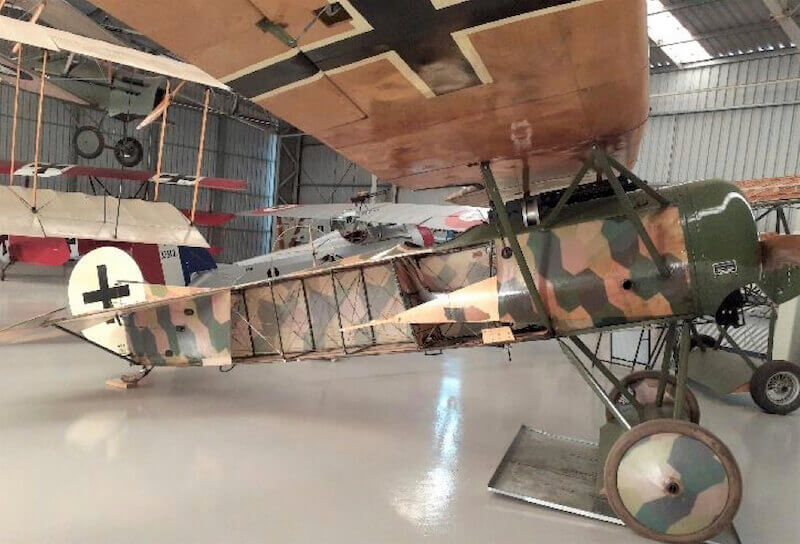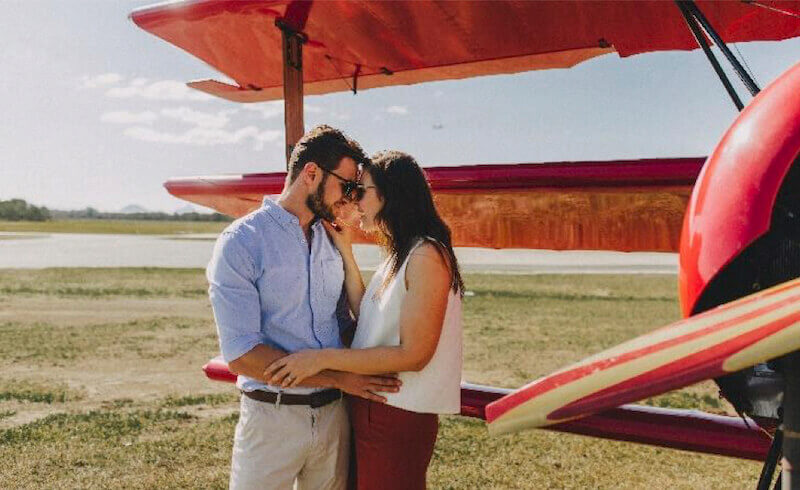 Above and below: Wedding couple Paul & Georgia enjoyed their pre-wedding photo shoot at the TAVAS museum.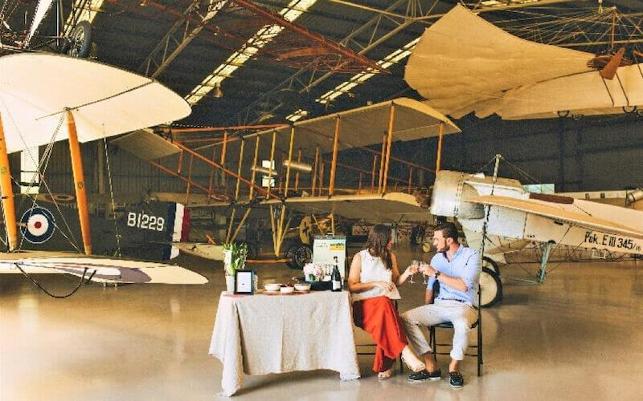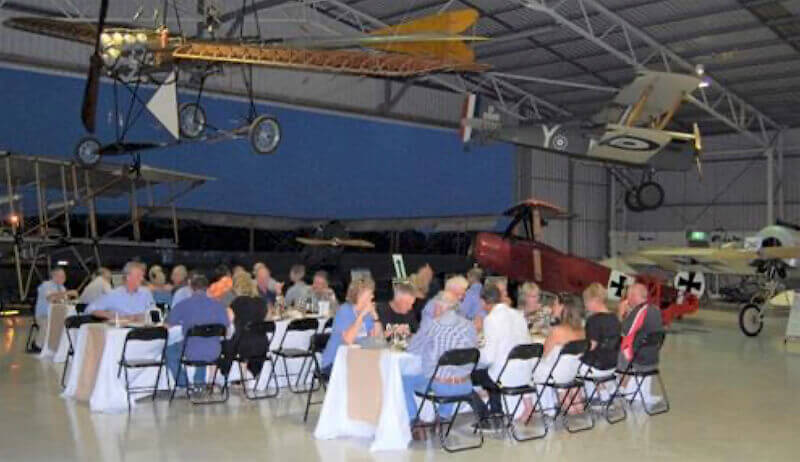 AWAL group dinner – all in attendance enjoyed their night and stated that it was an ideal function venue. After all, where else can you dine with a Johnson Monoplane and an SE5a soaring overhead?!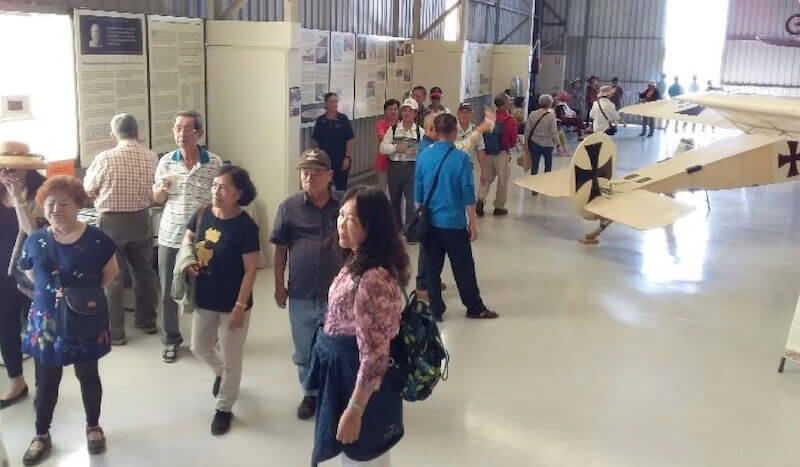 More than 60 people on a group visit – at the same time we already had other visitors at the museum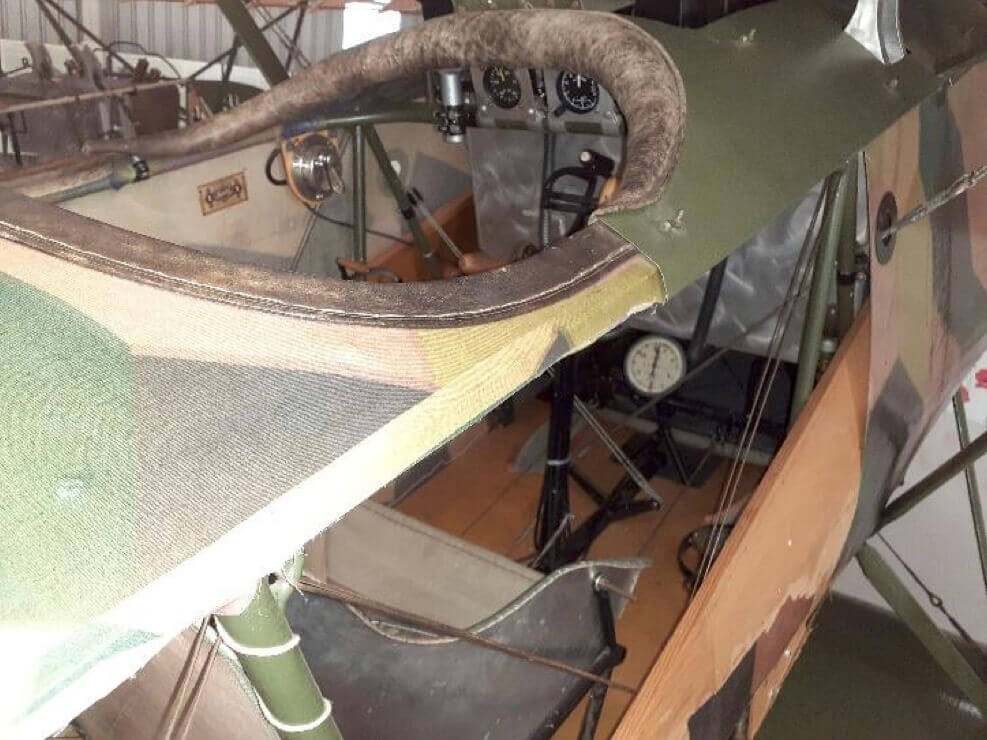 Above and left: Our Fokker D.VIII, looking somewhat worse for wear (literally!) ahead of its recovering in the authentic Belgian linen.
© Copyright The Australian Vintage Aviation Society
Caboolture Warplanes Museum, Caboolture Aviation Museum, Caboolture Museum