Attraction. Destination. Venue.
Museum Tours
With our commitment to sharing Australia's early aviation history, we welcome people with a special interest in those first aviators and their aircraft.
So whether you have a school history class or a social group with an interest in aviation, a guided tour of TAVAS Early Aviation Museum definitely won't disappoint.
And if you know someone who is passionate about old aircraft, they'll fit right in with us! Treat them to our VIP Experience tour or, for the ultimate treat, stage an unforgettable setting for that special event.
Please scroll down for more details.
Schools, Clubs, Special Interest Groups
Group Tour
Group Tours are perfect for exploring TAVAS Museum with insights from our qualified guides.

You'll hear the stories of our unique aircraft collection and some of Australia's WW1 flying aces. Discover the incredible legacy left to us by those pioneer pilots. Get up close to our highly accurate replicas and reproductions, for a real sense for how they were built and flown.
The 1½-hour Tour is by prior arrangement only and can include tea, coffee, cold drinks and nibbles to finish. Pricing will be confirmed with your booking.
Minimum for Group Tours is 10 participants.
Group Tour Enquiry
Provide a few details of your planned Group Tour and we'll contact you to make the arrangements.
The Ultimate Visit
VIP Experience
Our VIP Experience is a not-to-be-missed treat for the aviation history enthusiast.
This 1½-hour immersion includes a fully guided tour of the Museum's collection and displays, stories of the aircraft and aces – plus your chance to put on a flying jacket and goggles and experience sitting in the cockpit of a Fokker Dr.1 Triplane like the famous Red Baron.
Your visit will conclude with complimentary tea, coffee, cold drinks and nibbles – and the opportunity to keep asking questions.
THE VIP Experience
Adults ........................... $ 147
Children (5 to 16 years) ...... $ 77
Gift vouchers are also available.
Please note that WW1 aircraft were originally designed for young men!
Some parts of the tour require a reasonable degree of mobility.
That Perfect Location
Venue Hire
We welcome a small number of venue bookings per year, on an individually tailored basis. We will work with you to arrange the hangar so that it meets your needs, provide guide services on the day, and help with accommodating your caterers, guests, etc.
Please contact us to discuss your plans.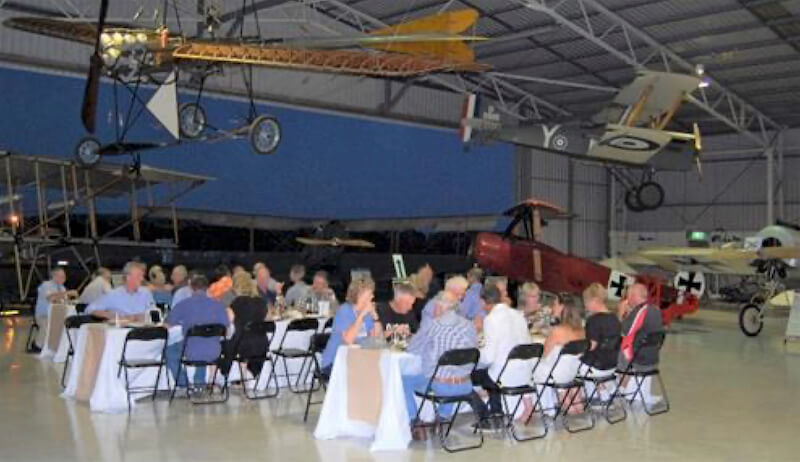 ADDRESS
Hangar 106, Eagle Lane
Caboolture Airfield, QLD
AUSTRALIA 4510

OPENING HOURS
10am to 3pm
Thursday to Sunday
We remain closed until further notice
© Copyright The Australian Vintage Aviation Society
Caboolture Warplanes Museum, Caboolture Aviation Museum, Caboolture Museum